All about the Brafferton Inn Bed and Breakfast
Choose from 18 Rooms, Colonial to Victorian, at the Brafferton Inn Bed and Breakfast and Experience Life in a Different Era
The Brafferton Inn Bed and Breakfast has 18 rooms including 9 suites. All rooms are individually decorated with styles range from Colonial, to Victorian, to Shabby Chic to Industrial/Farmhouse. We serve a delicious home cooked breakfast each morning along with afternoon treats. Our beautiful garden and outdoor deck area has plenty of seating to relax and enjoy the ambiance. The parlor inside has many books on Gettysburg and the Civil War, along with original artwork by historical painter Keith Rocco.
Relive the History of Gettysburg Pennsylvania: Stay at the Brafferton Inn Bed and Breakfast
In the 1760's Samuel Gettys purchased a land grant of over 300 acres from John Penn. The land surrounded a muddy crossroads where the Philadelphia-Pittsburgh and Baltimore-Shippensburg (PA) roads met. The Gettys family moved to the area, building houses and a tavern near the crossroads.
Although the frontier moved farther west, it was not an easy life. After two decades Samuel Gettys was forced to declare bankruptcy. Some of the land grant was auctioned off to pay his debts, and his son James Gettys purchased 116 acres including the tavern to keep it in the family. The land was sold off in building lots in the hope that a town would grow up and increase property values. They called the village "Gettystown".
A tanner who had worked with the Gettys family, Michael Hoke, purchased a lot on the road east in 1786 for "3 pounds, 15 shillings of real gold". He started building a townhouse there even before there was a town, and it remains the oldest deeded house in Gettysburg. He used a brown stone which is native to the area in the construction. In 1796, it was transferred to his brother Henry Hoke. The 4-bedroom house was expanded with an addition in 1815 attaching a kitchen and a larger dining room. The Hokes had no sons to inherit the property, so eventually the house was sold out of the family.
In 1843, Nicholas Codori purchased the property for 1,600 dollars. He had immigrated to America in 1828 from Alsace, France and had apprenticed himself to a local butcher. When he started his own butcher business he prospered. A good Catholic, he fathered 11 children and so needed a large house for his family and his growing business.
Codori purchased the property on either side of the house, building a large carriage house at the back of the east side and adding his meat market on the west side. At the beginning of the American Civil War he purchased a farm on the Emmitsburg Road to raise livestock and to use as his slaughterhouse. The farm is in the middle of the battlefield area where the Confederate assault known as "Pickett's Charge" occurred. The Codoris hid in the basement of the house while the Battle of Gettysburg raged in and around the town, while bullets entered their home above them. For months after the battle the house served as the Catholic chapel since their church was full of wounded soldiers. The Codori family continued to live in the house for 124 years. Many townsfolk still call the stone building the "Codori House".
In March 2005, the Hodges family (Joan, Brian & AmyBeth) purchased the Brafferton to pursue their dream of owning a historic inn and living in a town full of old stories and charm.
The inn's history reflects over 200 years of changes, but you can still feel the old-fashioned charm and warmth that makes this house a home. The house retains the original style and character of the period when it was built.
The Innkeepers at the Brafferton Inn Would Love to Meet You!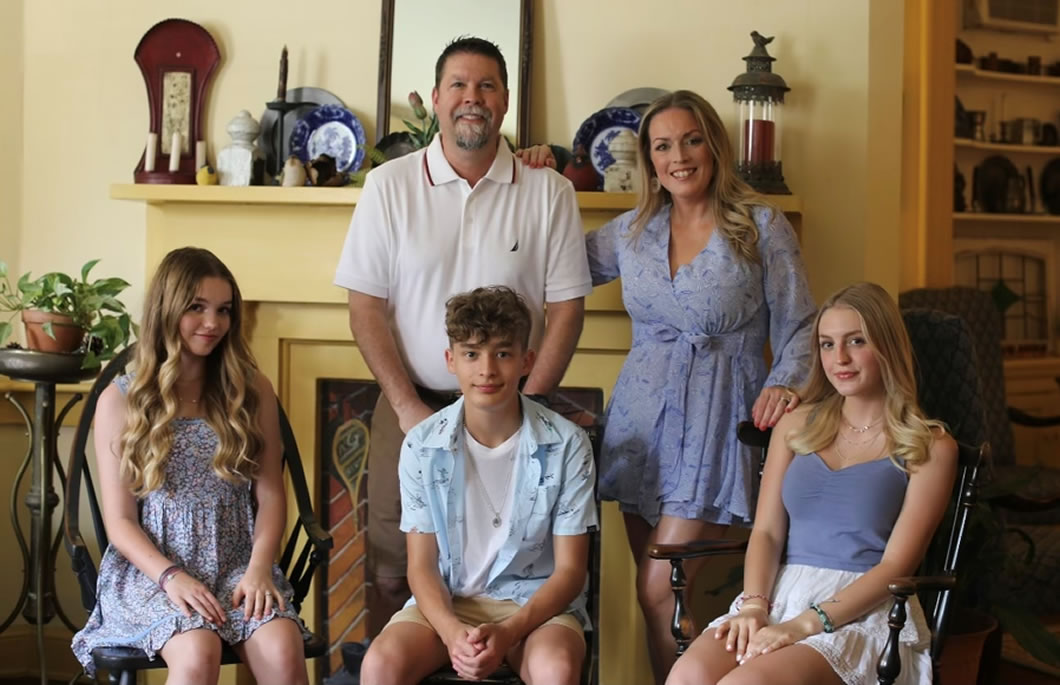 Your Innkeepers, Brian & AmyBeth Hodges
Brian and AmyBeth Hodges get their greatest pleasure from hosting guests from around the world in their historic inn in Downtown Gettysburg. Upon arrival, you will be greeted warmly and your every need will be tended to. Brian and AmyBeth also are raising three children and are actively involved in the Gettysburg area.
Celebrating almost 20 years of ownership!
Brian has a business management degree from Florida Atlantic University, and spent 20 years in the restaurant industry in South Florida. His greatest love is creating the best breakfast in Gettysburg. AmyBeth, Brian's wife, was born and raised in Newburyport, Massachusetts, and studied Criminal Justice. As an Innkeeper she loves the chance to meet people from many different countries, cultures and walks of life. AmyBeth's other passion is being a Mom and raising her children.
As a family, the Hodges will provide all the necessities for your stay in Gettysburg.
Brafferton Inn B&B Policies
Booking Policy
Rates-
Rates are in-season (April through November), and off-season (December through March)., based on double occupancy and include a full home cooked breakfast. Some rooms will accommodate extra persons at $25 each. Rates do not include 11% taxes.
Children 10 and above only
Deposit-
A deposit of one night's room charge is required, unless the booking is for two nights or longer, or large groups, when a 50% deposit is required.
A minimum two night stay is required on weekends from April 1st through November 30th and other special events.
From December 1st until March 31st there is no two night minimum except for special events and holiday weekends.
Payment-
Cash, Visa, MasterCard, Discover and American Express are welcome.
Our Inn is appropriate for children ages 10 and older only. Children may not be left unaccompanied at the Inn for any amount of time.
Cancellations-
Due to our intimate size, cancellations can affect us significantly. Please be certain that your travel plans are firm before booking. To mitigate the effects of unforeseen events, we highly recommend securing Trip Insurance.
If you give less than 14 days notice to cancel you will forfeit your deposit and will be charged for the balance due for the stay, unless the room is re-rented to another guest for the entire stay, in which you will be refunded minus a $25 cancellation fee.
Group Reservations-
Any group wishing to rent 8 or more rooms, and pay with one payment method, (credit card or check) will need to make a 50% non-refundable deposit at the time of booking. Also, a 1.5% service fee will be added on for the use of the facilities and for our staff.
Smoking-
We are a completely smoke and vape free environment, meaning smoking or vaping is not permitted in our rooms, decks, balconies, or garden areas.
Anyone who chooses to ignore this policy will be charged an extra night's fee.
Catering-
The Brafferton Inn does not permit the use of offsite caterers for parties or events. If you wish to have a small gathering or get together, the inn must be aware of the party, and the inn will provide the catering. Please contact the Brafferton Inn directly to go over costs for the use of the premises and for the catering.
Check-In-
Check in time is 3:00 p.m. – 8:00 p.m. Check- in after 8:00 p.m. are by arrangement only and will incur a $25 charge per hour. Absolutely no check-ins after 10:00 p.m.
Check Out-
Check out time is by 11:00 a.m.
Late check outs will be charged $25 per hour after 11:00 a.m.
Check outs after 1:00pm will be responsible for the entire day
Parking-
We do have private, free parking for all our guests. We have limited parking behind the inn, and a private lot around the corner on South Stratton Street.
Sorry, no checks for balances due unless paid 2 weeks in advance of arrival.
Any damage caused to the room or items in the room that occurs during your stay will be charged to the card on file.
Rates are subject to change.
Lost & Found-
We prefer that you don't leave items behind, but know from our own traveling that it does happen. If you have lost something somewhere along your trip, give us a call and if it is in our lost and found box, we will gladly mail it back to you for the cost of postage and a $10 handling fee.
Sorry, no pets allowed